B.L.O.T or Basic Love of Things
Are an Electronic Music / Mixed media ensemble from New Delhi
B.L.O.T = 1 Electronic Musician / Dj + 1 Visual / Design artist
With an edgy, yet, extremely native identity,
BLOT are a visaural attack to the senses
Now Delhi Feature on BLOT
Gaurav Malaker is the music half of B.L.O.T with Avinash Kumar handling the visual / mixed media installations. Their Live sets Integrate music and visuals to create a synesthetic experience. They have played at Festivals like the Electron Festival and  Sunburn, amongst a host of shows across India and Europe. B.L.O.T is also part of a collabrative-open-platform-space known as The Greenhouse in New Delhi –  which can best be described as a space lying somewhere at the intersection of an Art store, a place of education and a Smoothie bar.

Avinash (thiruda) is a mixed-media artist and the visual half of B.L.O.T. He is also involved in several other ongoing projects / collaborations  across spectrums of Design, Visual art, Film, even Food. He is also part of the Design Studio Quicksand. He is a Product Design Graduate from NIFT Delhi, and was instrumental in setting up one of India's first Toy design studios with UNIDO. Visually, his style is embedded with indian pop cultural references, and in live performances he  integrates various technologies and approaches to experiment with synergies between the visual and aural senses. More on The Greenhouse in Part 2 of the story



When Now Delhi met up with Avinash, he was very keen on getting more of those Indiana Jones-like Flashlights from Germany, because they could daisy chain and what not. Now that he's going for C-o-Pop Festival again this year,  there will be additions. Though, the torch did come in handy when he showed some of his Artwork for the Eyemyth festival 

B.L.O.T have in the past, done a video for the TED X in Bangalore and a lot of other work. They also maintain a very regular Blog. Currently they are working on  their 2nd  Album + DVD release which will feature their songs, music videos, stickers and a whole lot more. Out later this year! BLOT also run a space called the Greenhouse which is a collaborative workspace open to ideas and uses. Scroll below for more on the Greenhouse.
The Greenhouse is an open ended space
Which integrates Alternative Education, New-Culture collaborations 
It is a space which encourages new-media adventures
And is also a store that sells Creative work by Artists and Innovators
Now Delhi Feature on the Greenhouse
Run in collaboration by 5 Studios : Quicksand, CoDesign, Blindboys, BLOT and FattaBox, Its aim is to initiate cultural interactions, in a space which can act as a place of learning and as a medium for practitioners / Independent creators to share their work. A 3 story building in Hauz Khas.  The first floor is a store which hosts products and creations by all sorts of start-ups and independent artists/designers, amongst other things that The Greenhouse creates. From prints, art, music, film, toys, apparel, there isn't really a definition to what exactly you'd find here.



The Second Floor is a collaborative studio / school which is an interactive space for workshops and cross media projects. Across mediums of Design, Vj-ing, Film / Music production, Film screenings. The Third Floor is a Smoothie bar which is, well, a Smoothie bar. So in a way its a store, and a place where several different types of workshops and exhibitions happen.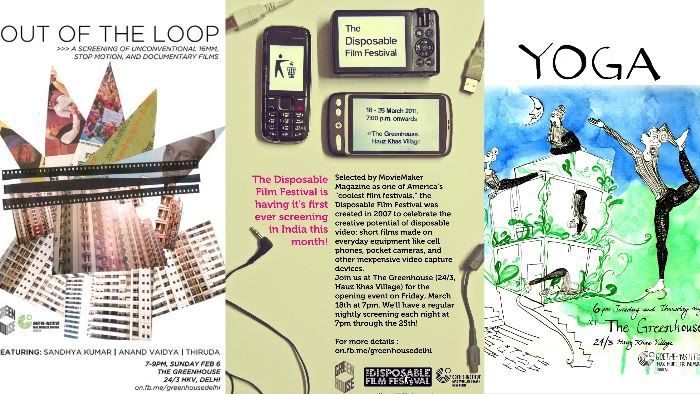 Greenhouse aims at being a place which can offer people a different experience as a store and as an outlet for Information and education. Through workshops and interactive sessions, people across ages can get involved in processes and get more resources about things that interest them, which they may otherwise not be able to access. Like the 'Your Flyer Here' which invited Album Artwork / Gig Flyers made by Indian Musicians which represent the emerging face of activism, design and Identity of the Indian Music scene. It then hosted an exhibition of those works. Or part of their Makeathon series, the 'I Heart Small Books' Workshop encouraged people to create small books to be exhibited at the Greenhouse. One of the Workshops featured in the video was the 'Whats your Type' – A typography workshop which invited people to create new typeforms using Found Materials. The other was a Graffiti workshop. 
Update: The greenhouse has shut down as of  September 2013. It was fun while it lasted though.
Music track and Footage courtesy – BLOT