Olek is a New York based artist who works primarily with crochet. Breathing new life into inanimate objects with her colourful and vibrant art pieces, she has brought back an age old tradition into the contemporary art world. In the past she has done pieces – both commissioned and guerrilla, on objects ranging from the Wall Street Bull to the Obelisk in Santiago de Chile 
Now Delhi feature :: Crochet Queen: Olek
New Delhi has several thousand homeless people, though there seems to be some discrepancy as to how many. Surveys by the government and NGOs throw up numbers anywhere between 25,000 and 2,50,000. And in a city with extreme and brutal weather conditions this results in several deaths each year.


As a counter measure, the Delhi government has a new project in the city where it has set up 'Rain Basera's'  which are temporary night shelters for the homeless across the city. Currently there are about 222 shelters which provide basic amenities such as blankets, water, electricity and toilets to one and all.  


However, as novel as the Rain Basera's are, they go mostly unnoticed by others living in the city, much like the homeless people themselves. The St+art India foundation wanted to work on a project which would draw attention to the night shelter project. Olek is one of the worlds leading crochet artists, and for the St+art Delhi festival, she worked on making a massive art-piece which would adorn a nigh shelter in Sarai Kale Khan, which is next to one of the busiest bus terminals of the city.
A temporary workshop space was setup for Olek in New Delhi where she would start amassing her massive piece. The piece was made of over 90,000 mts of fabric which was sourced from all across the city. Even fashion designers Tarun Tahiliani and Manish Arora contributed their discarded material for the project. Also, since India is know for its fabrics, Olek wanted to work with local materials to make the piece here, in India.

And considering the artist's feminist inside isn't ever too far behind, she also wanted this project to be done by women, for women. This meant that volunteers from all sorts of backgrounds came together to make the project happen – from housewives, to students, to rehabilitated sex workers, and even Afghani refugee women. Over the course of 3 weeks, more than 100 people came to work for the project.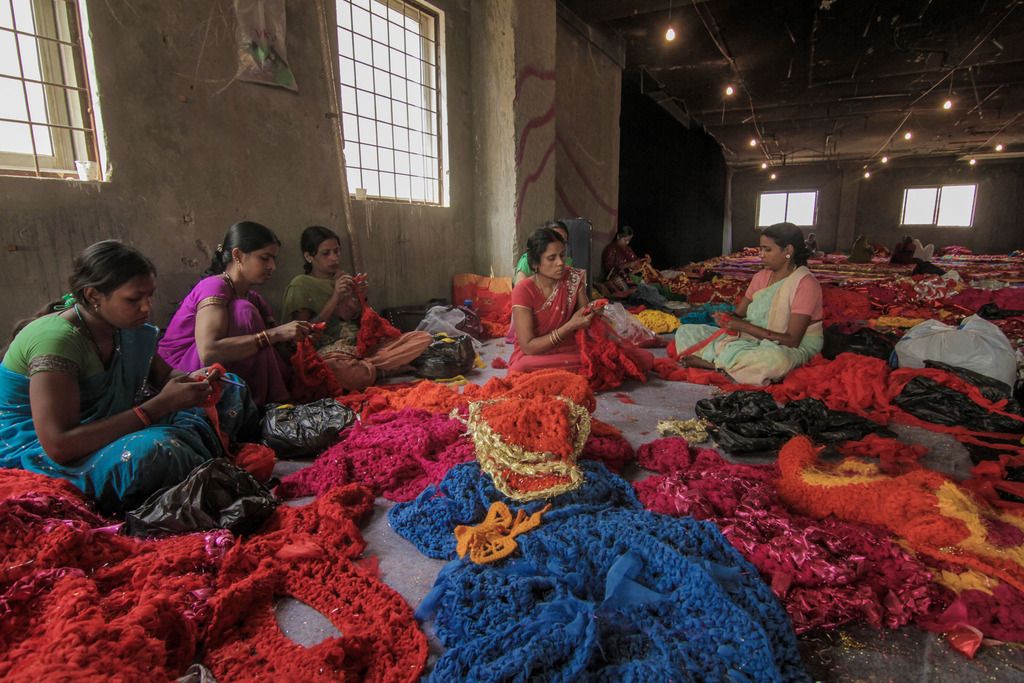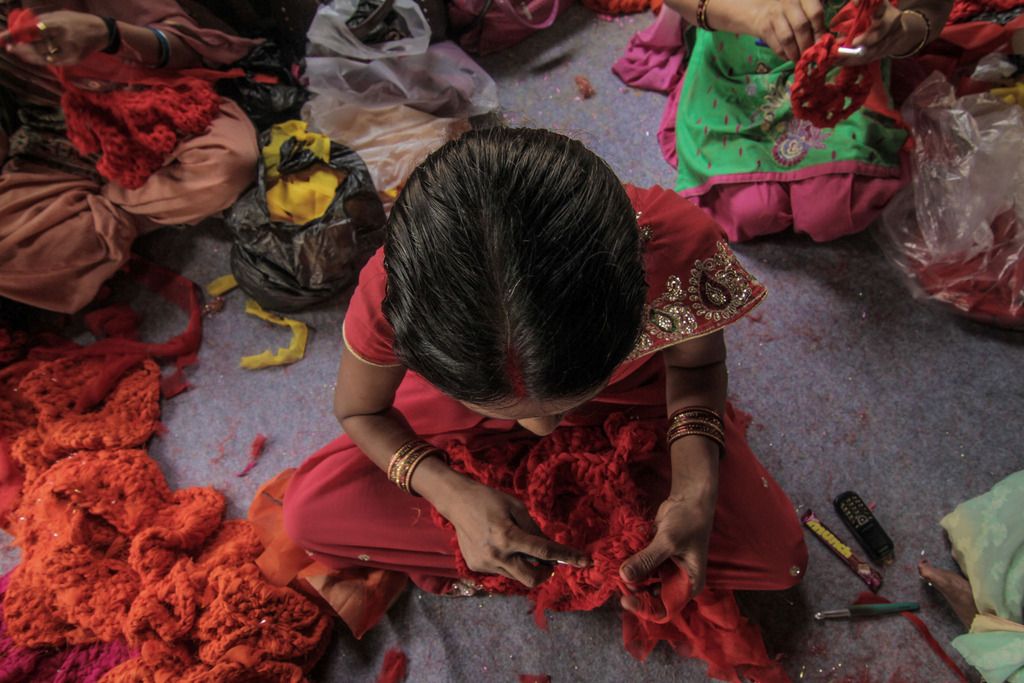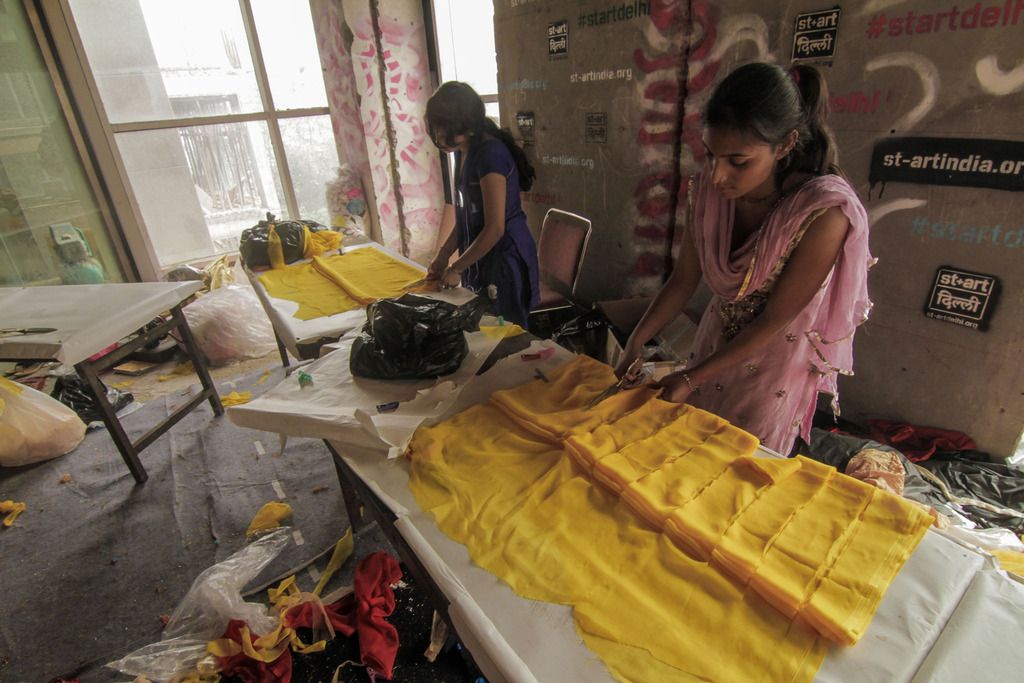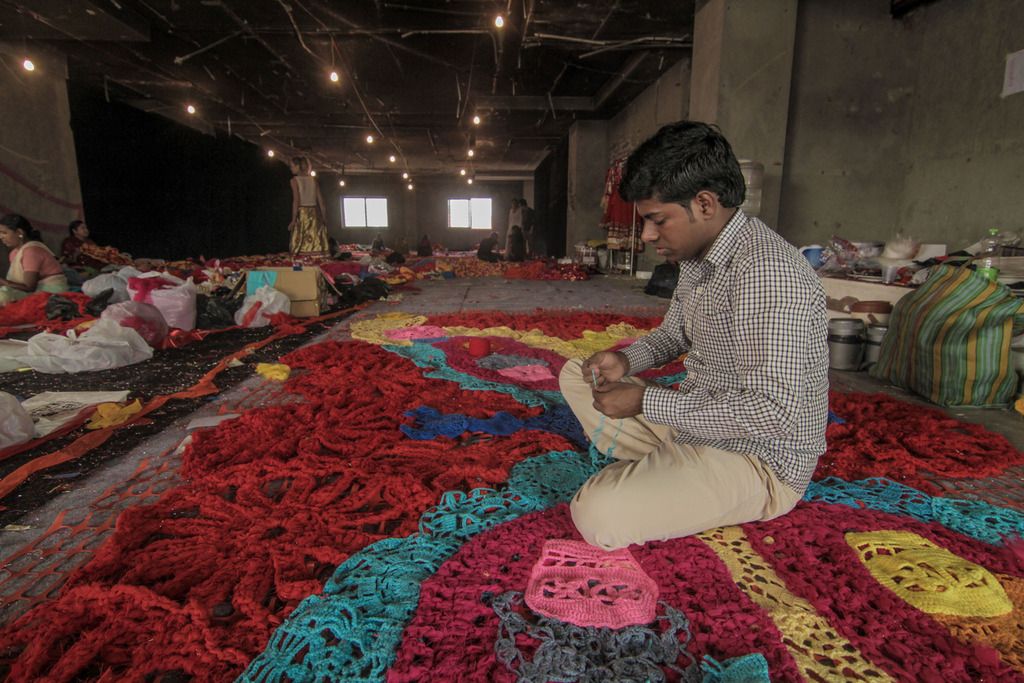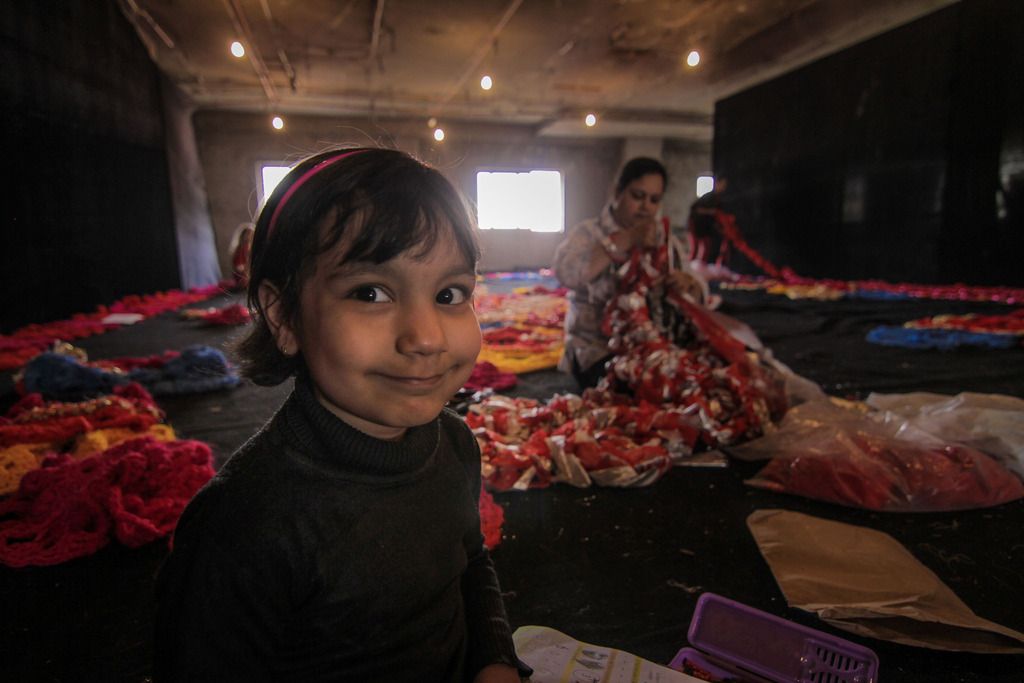 After 3 weeks of putting the piece together, the time came to install it on the shelter. Olek worked with a team of helpers who assisted her in mounting the installation. The whole process took about 6 hours, and drew a lot of attention with several inquisitive bystanders getting involved in conversation about the artwork. The overall aim of the project was to draw attention towards the night shelter, and over the month that the piece was left on the shelter, several news articles were were written about the project, increasing the awareness about the 'Rain Basera' project. Watch the video for all the interactions!